Great news this morning as our new graphic novel Amazing Fantastic Incredible Stan Lee makes the top spot on "The New York Times" bestseller list in the first week of release!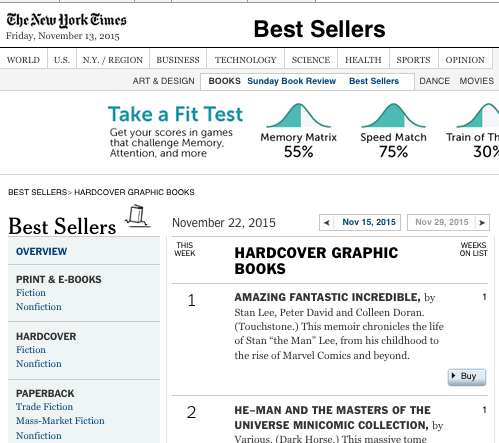 Our lighthearted look at Stan Lee's life, written by Stan with Peter David, has received some wonderful reviews. "The Library Journal" says it's "… a lovable account of a lovable character." "…lovely, accomplished artwork by Doran."
"Booklist" writes "…A wonderful take on an amazing man! Excelsior!"
Listen to a wonderful interview with Stan at National Public Radio HERE.
I'm off to AMAZING COMIC CON next week for one of my rare public appearances.
I am having a book sale, and am taking advance orders for books to carry to the show. Want me to reserve something for you? Be sure you don't miss out by ordering in advance! GO TO THIS LINK for info! HALF OFF select books, and if you can't be at the show, prices include shipping! We ship worldwide! And all orders come with extras, signed comics and prints! Don't miss out!