Mangaman, written by Barry Lyga and drawn by yours truly has been doing so very well, and we are incredibly happy and excited about it! I'm especially proud that so many libraries have added it to their collections. Currently, it's in over 500 libraries with well over 1000 if you count the branches! Delighted to hear this news!
Mangaman will get a new paperback printing this fall. Here's a shot from our publisher's catalogue!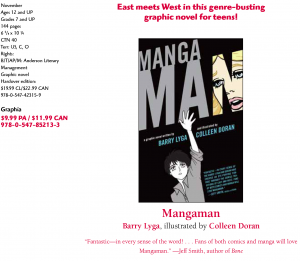 I can't tell you how happy and excited I am about all the outstanding reviews we've received for Gone to Amerikay. I am completely blown over and so grateful.
Cory Doctorow in Boing Boing.
This is a sensitive treatment of race and class, sexuality and art, betrayal and gender, and above all, the immigrant experience in America. Like a great folk song, it is at once simple and complex, a paradoxical confection that could only have been rendered in graphic form.
Michael Rapoport in The Wall Street Journal.
It's a sweeping, detailed, beautifully drawn story of love, betrayal and survival, with a small but crucial touch of the supernatural. It's deliberately paced and slow to build, but the payoff, as the three stories converge, is worth it.
Andrew Smith, Scripps Howard News.
I've saved the best for last, though, and it is the thing that raises this book to the level of classic: the lush and generous art of Colleen Doran. I've followed Doran's career since 1983, when she began serializing "A Distant Soil" (the work for which she's best-known). And I've watched as she improved with each subsequent effort, like a story arc in Neil Gaiman's legendary "Sandman" and Warren Ellis's graphic novel "Orbiter."

As good as she was then, "Amerikay" is a quantum level beyond. This is an artist at the peak of her powers, full-throated where power is called for; nuanced and subtle for emotional scenes; detailed, fluid and confident throughout. Doran almost makes you regret her strong storytelling, which gently seduces you into flowing through the three intertwining stories, because you want to stop and gaze at the pictures. The cool thing about comics, though, is you can do both: Enjoy the story on first read, then flip through again and again to admire Doran's skills.
Also, an online DJ has created a playlist for the book. Go to this blog post, with links to writer Derek McCulloch's music notes for Gone to Amerikay, as well as places you can listen to the music featured in the book.
I hope you'll check out our books at your local library, or ask for them at your bookstore.