The first print issue of THE VAMPIRE DIARIES, a 30 page tale with art by Tony Shasteen and story by me, premieres in comic shops TOMORROW! Be sure to look for it! There is also a limited edition photo cover version! I thoroughly enjoy working on the series based on the hit CW TV show.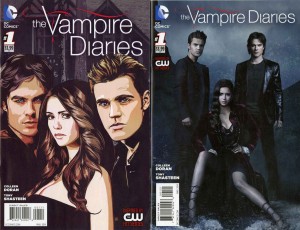 I've written issue 3 of the series and issue 6! So I will be sure to announce those as soon as they are available. And I have another announcement along those lines I am not sure I am allowed to make yet…so…wait.
ISSUE 3 is available for preorder! Ask for it at your local comics shop!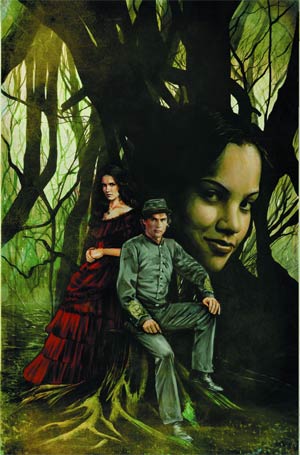 Damon returns to Mystic Falls carrying a Confederate communiqué, too ill to deliver it promptly. Will Katherine's lust for revenge against the young woman chosen to heal this fine specimen of Southern manhood lead to disaster for The Cause?
It's exciting to be writing and working with other artists. I also wrote a well-received short story for KOMACON, a Korean/American graphic novel anthology. The artist on the story I wrote is Hae Mi Jang. She is really wonderful! I hope you will seek it out.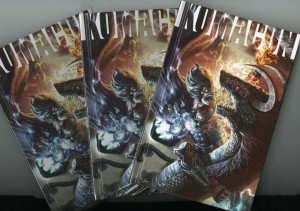 I'm hard at work on the next issue of A DISTANT SOIL, finishing the new trade paperback volume II, as well as working on the long-awaited Neil Gaiman graphic novel (we can't announce the title yet).
There is a major interview with me over at THE COMICS REPORTER I hope you will check out as well. It goes into lots of details about my work, and the restoration of A DISTANT SOIL.
A lot of black and white books out there are being scanned directly and not being restored. They're just scanned and no one is trying to fix the tone sheets or doing whatever. Most people don't want to talk about that, and I understand that. The fact of the matter is the kind of restoration we're doing on this book is prohibitively expensive.
I've also recently finished a series of covers for novel by author Carol Strickland. I hope you will keep an eye out for them!