Recent reviews and profiles on Colleen Doran's latest work Gone to Amerikay from The Wall Street Journal, Boing Boing, and Irish Echo. The editors of Irish Echo asked Colleen to do a Gone to Amerikay-themed cover for their 2012 St Patrick's Day issue, which was then presented to President Obama by Deputy First Minister Martin McGuinness of Northern Ireland.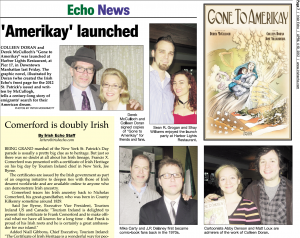 I've also always admired the Asian sense of line and negative space. I was very fond of many of the late 19th to early 20th century graphic artists and illustrators, and I realized that much of what I enjoyed about their work was the direct influence of the woodblock prints being imported from Asia in the 19th century. They were a huge influence on Toulouse Lautrec, Alphonese Mucha, Vincent Van Gogh and others. Van Gogh's famous painting of iris is very similar to a Hokusai print of iris, and the graphic line of art nouveau is the direct descendant of the fusion of Western form and Asian line.
Colleen at CREATE, a series of round table discussions with artists, writers, politicians, musicians on digital technology, monetizing the internet, and copyright.
Colleen interviewed by Molly Crabapple at ChinaShop Mag:
I don't know if it's entirely a bad thing that I am probably a lot like Thessaly, personality-wise. Someone told me we are equal in our capacity for frightening pragmatism, but I don't know if I'd peel anyone's face off and hammer it to a wall. I don't know if Neil really gave her my personality or if that's just a scary coincidence.
Work in progress Stealth Tribes at Newsarama.
Stealth Tribes requires some sort of reference on virtually every single panel. The backgrounds in Stealth Tribes make the backgrounds in Orbiter look like child's play. There are numerous sets and locations, some of them pretty complicated. There are many characters. The detail is kind of brutal. And this time, I used a good deal of figure reference, lots of photographs of people.

Podcast Interview at Word Balloons.
Podcast interview at BlogTalkRadio:

Set dressing of a Colleen Doran comic booth on the set of the Numbers television show. From the Warren Ellis blog. Photos courtesy Will Wheaton. Alas, the shot was cut from the final broadcast.
This page was updated 5-10-12.