February 2017 interview at Comicosity!
The Wall Street Journal on Troll Bridge by Neil Gaiman and Colleen Doran "…lushly illustrated, deeply felt."
Extensive video interview at The Mary Sue.
News Channel 5 lists Troll Bridge as one of their top fall picks.

The Comic Book Legal Defense Fund profiles MANGAMAN. "The book received starred reviews from Kirkus ('an inventive offering, sure to please fans of both American and Japanese comics') and School Library Journal ('a story full of clever humor and human emotions'), as well as praise from Bone creator Jeff Smith, who called it "an eye-popping fun-ride through the comics traditions of East and West.'"
The Marvelous Life of Stan Lee on CBS news, featuring Colleen Doran's illustrations for Stan Lee's autobiography. Stan Lee celebrates a Life in Comics on CBS Sunday Morning with illustrations by Colleen.
Interview at SALON. "This book gives a tour of Lee's unique life, which has been just as exciting as you would expect, but also full of the same disappointment, tragedy, and—movingly—romance as any regular person. Just as Lee's writing humanized superheroes in the 1960s, this book humanizes Lee."
Colleen's work on Valiant Comics' FAITH profiled in Vulture.
On Colleen Doran's work Gone to Amerikay from The Wall Street Journal, Boing Boing, and Irish Echo. The editors of Irish Echo asked Colleen to do a Gone to Amerikay-themed cover for their 2012 St Patrick's Day issue, which was then presented to President Obama by Deputy First Minister Martin McGuinness of Northern Ireland.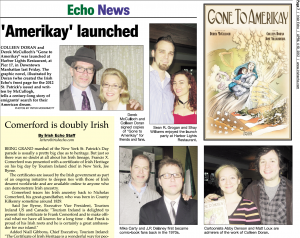 I've also always admired the Asian sense of line and negative space. I was very fond of many of the late 19th to early 20th century graphic artists and illustrators, and I realized that much of what I enjoyed about their work was the direct influence of the woodblock prints being imported from Asia in the 19th century. They were a huge influence on Toulouse Lautrec, Alphonese Mucha, Vincent Van Gogh and others. Van Gogh's famous painting of iris is very similar to a Hokusai print of iris, and the graphic line of art nouveau is the direct descendant of the fusion of Western form and Asian line.
Colleen at CREATE, a series of round table discussions with artists, writers, politicians, musicians on digital technology, monetizing the internet, and copyright.

Colleen in The Washington Times.
Colleen interviewed by Molly Crabapple at ChinaShop Mag:
I don't know if it's entirely a bad thing that I am probably a lot like Thessaly, personality-wise. Someone told me we are equal in our capacity for frightening pragmatism, but I don't know if I'd peel anyone's face off and hammer it to a wall. I don't know if Neil really gave her my personality or if that's just a scary coincidence.

Set dressing of a Colleen Doran comic booth on the set of the Numbers television show. From the Warren Ellis blog. Photos courtesy Will Wheaton. Alas, the shot was cut from the final broadcast.
This page was updated 11-3-16.