The graphic novel MANGAMAN, by Barry Lyga with art by me, survived a very bizarre censorship challenge.
Mangaman was written by Barry Lyga and illustrated by Colleen Doran. It tells the story of Ryoko, a manga character who falls through a dimensional rift into a real-world American high school. The book received starred reviews from Kirkus ("an inventive offering, sure to please fans of both American and Japanese comics") and School Library Journal ("a story full of clever humor and human emotions"), as well as praise from Bone creator Jeff Smith, who called it "an eye-popping fun-ride through the comics traditions of East and West." All available reviews judge it to be appropriate for high-school-aged readers, while some even go a bit younger (12-13) in their recommendations…the mother of a high school student in Issaquah, Washington pushed to have the graphic novel Mangaman removed from Issaquah High School's library due to one panel showing pixelated genitals.
The American Library Association's Office for Intellectual Freedom has more.
The Mangaman situation highlights the need to carefully review district or school policies about both selection and reconsideration of materials. This should be done on a regular basis in order to examine them for loopholes as well as to make sure that policies address changes in materials including format.
I'll have art in issue 4 of Neil Gaiman's AMERICAN GODS adaptation coming from DARK HORSE COMICS. Read more at The Hollywood Reporter.
I have a cover on the March 2017 issue of RAT QUEENS from Image Comics, with the variant edition proceeds going to charity.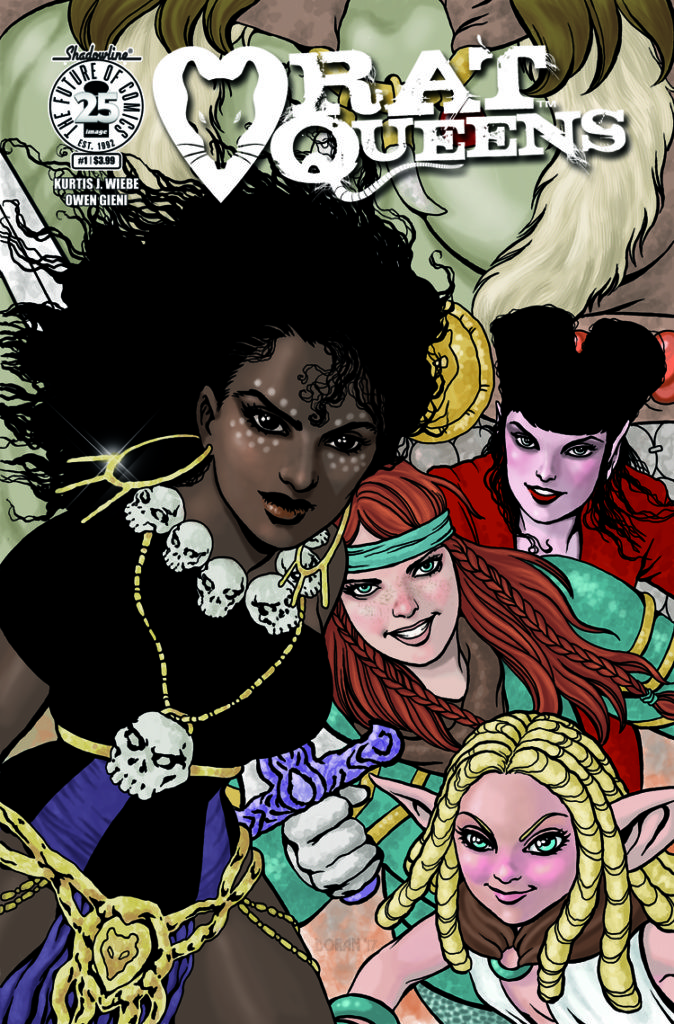 I had to push a couple of projects back because I have not been well. As most of my readers know, I've had a variety of disturbing and sometimes disabling symptoms for years. I was finally diagnosed about 8 weeks ago with a cocktail of auto-immune disease issues, and am now getting treatment. Over the last ten days, I have noticed a marked improvement. I apologize for running behind on my work.
In the meantime, I have some books and art for sale, including some hardcover A DISTANT SOIL limited editions and some nice art on ebay. More info HERE.
And don't forget, I'll be at Wizard World Portland the weekend of February 17, for my first Portland appearance!