Gone to Amerikay, the graphic novel I illustrated for Vertigo, written by Derek McCulloch, colored by Jose Villarubia, and edited by Joan Hilty, is the only mainstream original work to make the Best American Comics from Houghton Mifflin for 2013.
Joan Hilty writes on her website:
I'd known Colleen Doran through the complex but tight community of women in mainstream comics for a while, and finally had the pleasure of working with her and Keith Giffen on Reign of the Zodiac, and when she brought this pitch to me and ordered me to read Derek McCulloch's Stagger Lee (currently being adapted to the stage by Tony Award winning talent), I couldn't pass it up.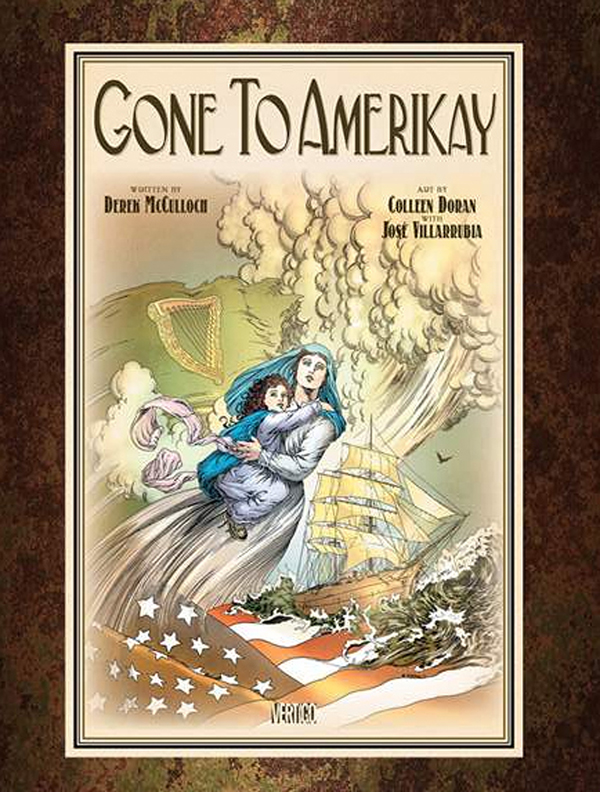 Also, since my blog is acting up a bit, here's a previous post with info about BOOK OF LOST SOULS and A DISTANT SOIL:
Cross posted from the A DISTANT SOIL website:
At the Image Expo, J Michael Straczynski announced THE BOOK OF LOST SOULS, a series I drew for him at Marvel's ICON line, will be moving to Image Comics under his new Joe's Comics imprint in 2014. I will be back as well, and here is some new art!
I had a sale on the BOOK OF LOST SOULS GN, hoping to encourage my readers to pick up the previously collected issues before the announcement. Obviously, I could not tell you all what was coming! I'm super-excited and happy about this news and even though it won't be out until next year, I am very happy. It is incredibly cool to be wrapping up single digits of the A DISTANT SOIL series right now, while ramping up one of my all-time favorite projects, THE BOOK OF LOST SOULS, as well. The sale is over, but you can get THE BOOK OF LOST SOULS and other works direct from me at my bookstore.
Many news sites picked up the story yesterday, and here's an interview with JMS at Comic Book Resources about the new series. FYI, the new series will be stand-alone and reader friendly. But, ahem, I have all the back issues for sale, as well as GN's.
LOS ANGELES TIMES
MTV
WORLD NEWS
COMIC BOOK RESOURCES

COMICS ALLIANCE
NEWSARAMA
HOLLYWOOD REPORTER
DIGITAL SPY
IGN
Many of these articles recycle the info, but there's an interview at the Comic Book Resources link.
Here's an interview with me at NEWSARAMA about ending A DISTANT SOIL and ramping up the projects I was not able to talk about yet, like LOST SOULS.
A podcast at Comics Alternative with me and Derek McCulloch about GONE TO AMERIKAY and our other works.
Get the backstory of The Pogues influence on the novel.
And important, game changing news from IMAGE COMICS: Image now offers a DRM-free online comics service, which means in addition to Comixology, you'll be able to get excellent quality comic downloads direct from IMAGE that you can save and play on any device.
The first issue of A DISTANT SOIL available is issue 40, and back issues will go up over time. All future issues will be available as DRM free downloads.