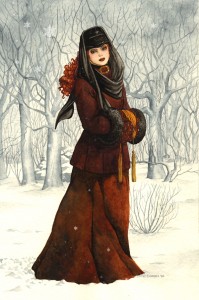 Thanks so much for dropping by. I'm sorry I don't update here more often, but if you want to keep up with my latest news, I'm on Facebook as well as Twitter.
Also, I blog at least once a week at A Distant Soil, where you can read a goodly portion of my space opera epic on my advertiser-supported website.
I'm also in the midst of restoring the entire series, after a botch at the printer left us in the lurch. They lost our negatives. This is pretty much a death knell for a book full of pictures without some serious restoration. You can read about it here, and learn how you can help. My assistant Allan Harvey is doing the heavy lifting on art which has to be restored from printed pages, and I am doing restoration on art scanned from the originals. We're talk roughly 1000 pages that need to be brought back to life.
Someone actually asked me why I didn't just go on line and take pirated copies of my books and use those scans. I just shake my head that someone would even ask. I could be here all day explaining why pirated scans are lousy and unusable, but let me put it as simply as I can: my entire library, illegally scanned from my books, comprises a file that is not bigger than what I need to print just two of my covers from the original art. Pirate quality is that poor. It will have taken about five months of work, and a not inconsiderable amount of cash to do professional quality restoration for print publication.
A Distant Soil resumes publication at Image Comics in April 2013.
I have a number of other projects I am working on, including a graphic novel with Neil Gaiman for Dark Horse. I am sorry I can't tell you what that is. I also have a project slated at Top Cow, another imprint at Image Comics.
My new graphic novel Gone to Amerikay, written by Derek McCulloch, scored a spot on School Library Journal's Best of 2012 list. As you can imagine, we are very happy and proud to be singled out.
Also, here at The Wild Geese, an interview with me and John A. Walsh, author of Go Home Paddy, about our graphic novels and our interest in Irish heritage and history.
Please check out my book sales at A Distant Soil. I can't promise to make Christmas shipment at this late date, but I hope you'll take the time to look at my work!