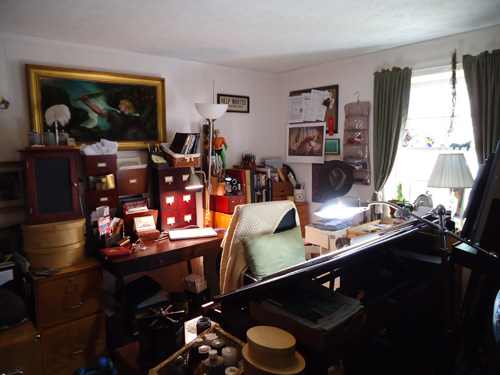 Thanks for dropping by. Some of our blog functions went haywire, and I'm just now getting around to updating the galleries. Hope you have fun looking through the pretty pictures! I'll add more soon.
I'm working very hard on several new projects, most of which I can't talk about just now. But my new book Gone to Amerikay, written by Derek McCulloch and published by our Superman bosses DC Comics/Vertigo, will be out in a little over a month.
Ciara O'Dwyer is a young woman raising a daughter alone in the Five Points slums of 1870; Johnny McCormack is a struggling actor drawn to the nascent folk music movement in Greenwich Village 1960; and Lewis Healy is a successful Irishman who's come to present-day Manhattan on his wife's anniversary-present promise to reveal the connection between him and them. The mystery originates with Ciara's runaway husband, who disappeared after promising to join her in America, and carries into midcentury when Johnny, devastated by an unexpected romance and a lost shot at musical fame, gets a supernatural visitor.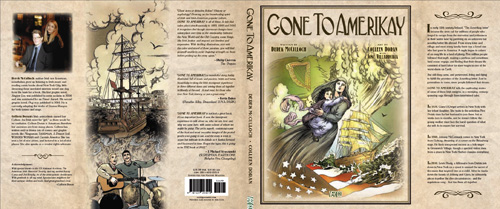 Behold, our lovely dust jacket.
The advance press on this project is so wonderful it makes my heart swell. Getting this recommendation from Philip Chevron, guitarist and singer for The Pogues, is especially exciting for us, because Derek and I both love their music, which was a great inspiration for Gone to Amerikay.
"Ghost story or detective fiction? History or mythology? Drawing on the freewheeling spirit of Irish and Irish-American popular culture, Gone To Amerikay is all of these. A tale that takes place simultaneously in 1870, 1960 and 2010, it recognizes that though enormous changes have taken place over time in the relationship between the New World and the Old Country, some things, like love, justice and respect, are timeless and imperative. With thrilling illustrations, rich with the color and mood of these passions, you will find yourself unable to avoid lingering at length on them before picking up the story again."
— Philip Chevron
The Pogues
We were also stunned to receive this lovely quote from esteemed novelist Kevin Baker.
"Gone To Amerikay's a wonderful story, lushly illustrated, full of music and passion, twists and turns, beautifully evoking the Irish immigrant experience in three different times and sewing them all together brilliantly at the end. A real treat, for those who love New York history, or just a great story."
— Kevin Baker
(Paradise Alley, Dreamland, LUNA PARK)
And, of course, this terrific quote from our good friend and benefactor J Michael Straczynski.
"Gone To Amerikay is not just a great book, it's an important book. It uses the immigrant experience to talk about us, who we are, how and why we came here, with some echoes of where we might be going. The art is superb, containing some of the best and most evocative images of the period you're ever going to see, and the story is wide in scope but intimate in its details as it flashes forward and backward in time. Forget the hype, this is going to be THE book of 2012."
— J. Michael Straczynski
(SUPERMAN: EARTH ONE,
Babylon Five, Changeling)
J Michael Straczynksi is also working on prequels for Allan Moore/Dave Gibbon's famous Watchmen graphic novel, which is very exciting. We wish everyone involved good luck with that.
Here is an in depth podcast interview with me and Derek McCulloch about Gone to Amerikay. It runs about an hour.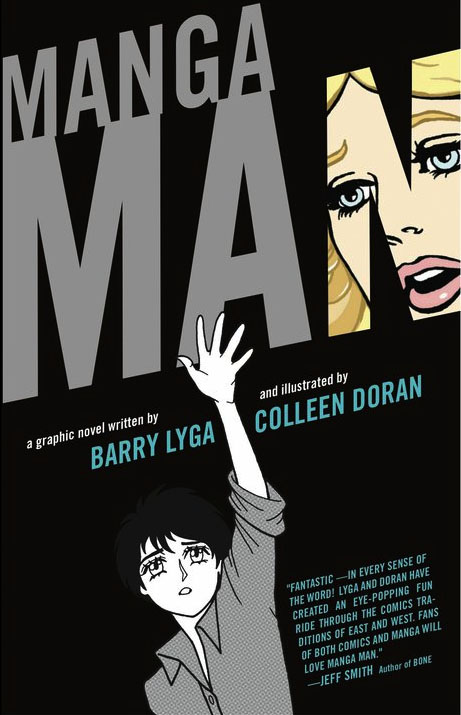 Mangaman is another book I'm very excited about. It is written by Barry Lyga and was just released to very good reviews. Best of all: a nod from the Young Adult Library Services Association as one of the great graphic novels for teens of 2012! We are truly appreciative of all the great reviews and kind words for the book. I was just in a store the other day, and there it was on a shelf. Whee! So happy!
We received generous, starred reviews in both Kirkus and The School Library Journal. A starred review in Kirkus is very prestigious. We were deliriously happy to get it!
Here are some direct links to Mangaman reviews.
Kirkus

School Library Journal

Graphic Novel Reporter
Bulletin Center for Children's Books
Literary Treats
Stumptown Trade Review
Teen Reads
And many more…
We are deeply grateful for the terrific response to Mangaman. Librarians are giving us great feedback, telling us kids grab the book right up and don't put it down! Just what we want to hear!
Barry is a talented and critically acclaimed young adult author, and his new book, I Hunt Killers, promises to be a huge hit when it is released in April.
Barry is so much fun to work with, and I can hardly believe Mangaman is his first graphic novel! He has old pro chops! And few old pros get these kinds of accolades on their first graphic novel!
In addition to these projects, I am doing prelim work on a new graphic novel, and gearing up to go back to A Distant Soil at Image Comics after a long hiatus. The book is doing better than it has in years, we have thousands of new readers, and I am working with the Image Comics graphics department to create digital comics editions of the series. Wish us luck!
Image has been so good to me all these years. I cannot adequately express how truly grateful I am to everyone there.
While working on all of these projects, I am finishing off a pile of commissions, including a major oil portrait for an important client. I really enjoy doing commissions: I have the luxury of not having to take on jobs I don't really want, so I am able to do my best. It's fun and I love seeing the reactions of my patrons when they get their finished art!
I often post commissions at A Distant Soil.com, so check out my webcomic site and have a look at my series!
Ask for my books at your local bookstore!
Thanks for all your support!
c