It's been out for years now, but my how-to-draw book Girl to Grrrl Manga continues to please. I just found out my publisher sold foreign rights! It's amazing this little book has done so well. I got such a nice response to it when it came out.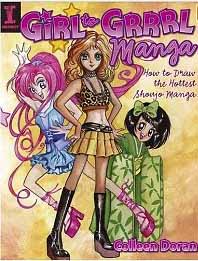 It's available in all major book stores, here at my personal book shop, and also available in many art supply stores. So funny to go into a store to buy paper, and there's my book! The sequel Manga Pro Superstar is also still available.
My new graphic novel for Houghton Mifflin is drawn in two different art styles (and you'll understand why that is when you see the book). Girl to Grrrl Manga shows you to do this, too.
I'm not exactly sure when Houghton Mifflin is going to let us announce the title of the book, but I will jump up and down and make gleeful noises as soon as I can say more.
While I don't post on this portfolio blog often, I post at least three times a week at A Distant Soil.com, and also at my Facebook Fan Page. So, I hope you'll sign up to stay on top of all the info!
Thanks.
c